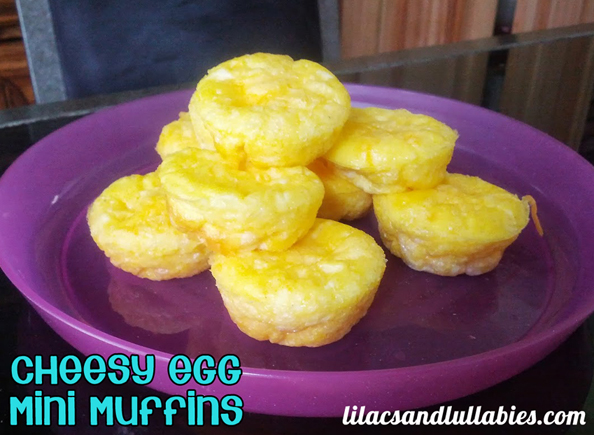 When I have some free time I can't help but do a little pinterest browsing and one of my favorite things to pin are edibles to make for my girls. While pinning recently I came across a recipe for egg and cheese mini muffins from The Seasoned Mom and decided to give it a try. I'm so glad I did because it was a HUGE hit with both of them and it was super quick and easy. If you have a toddler or an infant starting to eat finger foods and need toddler or infant meal ideas these egg and cheese mini muffins would be perfect for your breakfast rotation!
You will need –
6 Eggs
3 TBSP. Milk (I used 1% – It's what we had!)
1/2 tsp. Salt
1/8 tsp. Pepper
1/3 cup grated cheddar cheese
One slice of American Cheese (My little add-on/tweak!)
Let's get cooking!
Preheat your oven to 350 degrees and prepare your mini muffin pan with some non – stick spray. If you don't have a mini muffin pan you can use a regular muffin/cupcake pan too, they will just be bigger!
In a large bowl or measuring cup whisk together your eggs, milk, salt and pepper. (I started in a bowl and transferred to a measuring cup for pouring once Lelia finished whisking. Lelia loved helping with this part – stir, stir, stir!)
Pour egg mixture into your prepared pan filling cups about 2/3 full.
I then took a slice of american cheese and cut it up into small pieces. (I had about 19 filled mini cups so I sliced down 4 times and across 3 times to get 20 tiny pieces). Drop a small piece of american cheese into each cup filled with egg mixture.
Sprinkle cheddar cheese evenly on top of your egg filled mini muffin cups. Bake 8-10 minutes or until eggs have set. (Increase cooking time if baking in regular size muffin tins!
Allow the egg muffins to cool in the pan a few minutes before transferring to a wire cooling rack.
If you are eating the muffins immediately allow to cool until they aren't too hot for little mouths to eat and serve! If you are freezing allow to cool completely, spread on a baking sheet and freeze and then dump them into a freezer bag for easy access for a delicious breakfast for you or your babies! When heating from frozen just stick them in the microwave for 15-30 seconds or until heated through.
I can't say enough how easy these little egg muffins were and they were so delicious! Lelia asked for seconds (and thirds!) and little Aerilyn gobbled them right up too. I ate a bunch myself and knew the recipe was a keeper. I especially loved my little add on of american cheese because the cheese melted in the center and was ooey gooey delish when you bit into it. Scrumdiddlyumptious.