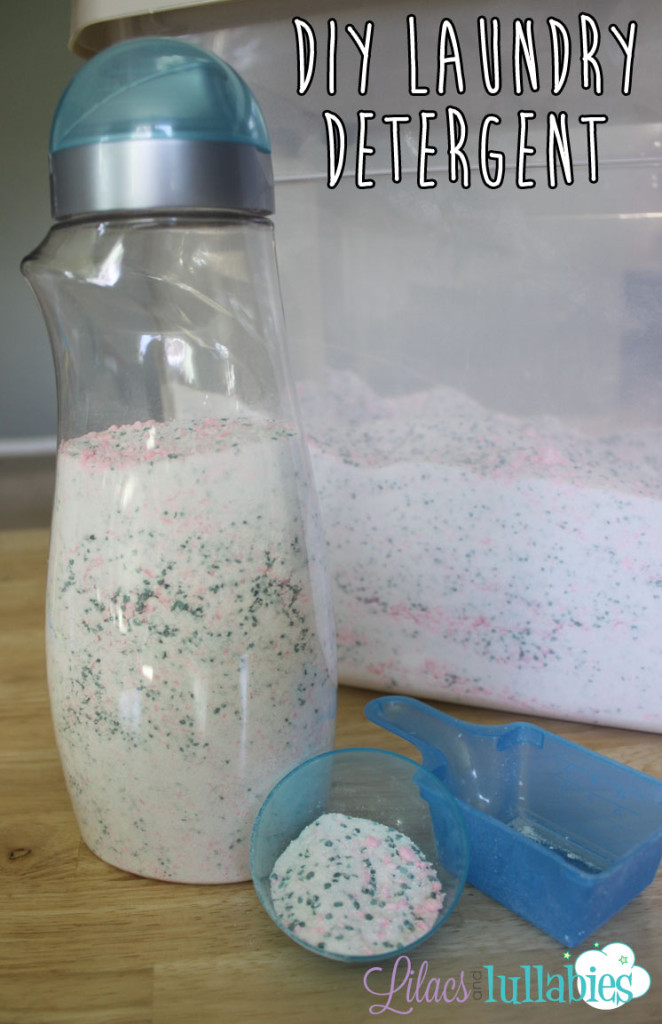 Last winter I stumbled upon a few recipes online for making your own laundry detergent. I had been using a powder version of Arm & Hammer with Oxiclean that I absolutely -loved- but when that suddenly became impossible to find (unless I wanted to spend a fortune on amazon) I decided I would give the diy laundry detergent recipe a try. The results? Awesomesauce. While it was a little time consuming to make (mostly grating down the bars of soap) it is totally worth it. You only need to use a couple tablespoons for each load so it lasts FOREVER and my clothes come out just as clean (if not more clean!) as before and the smell fantastic too. Plus, I love how you can customize it by adding your choice of scented washer crystals (or leave them out if you would rather avoid scents!). I always use the Purex Fresh Spring Waters scent and my mom is constantly telling me how wonderful my blankets and linens smell.
To date I have only made 2 batches of it since my first batch lasted around 6-8 months (which says a lot as a family of 4 with a toddler and an infant!). The second time around I tried another method of grating the bars of soap and I am not sure if I will try it again but I'll get to that later on!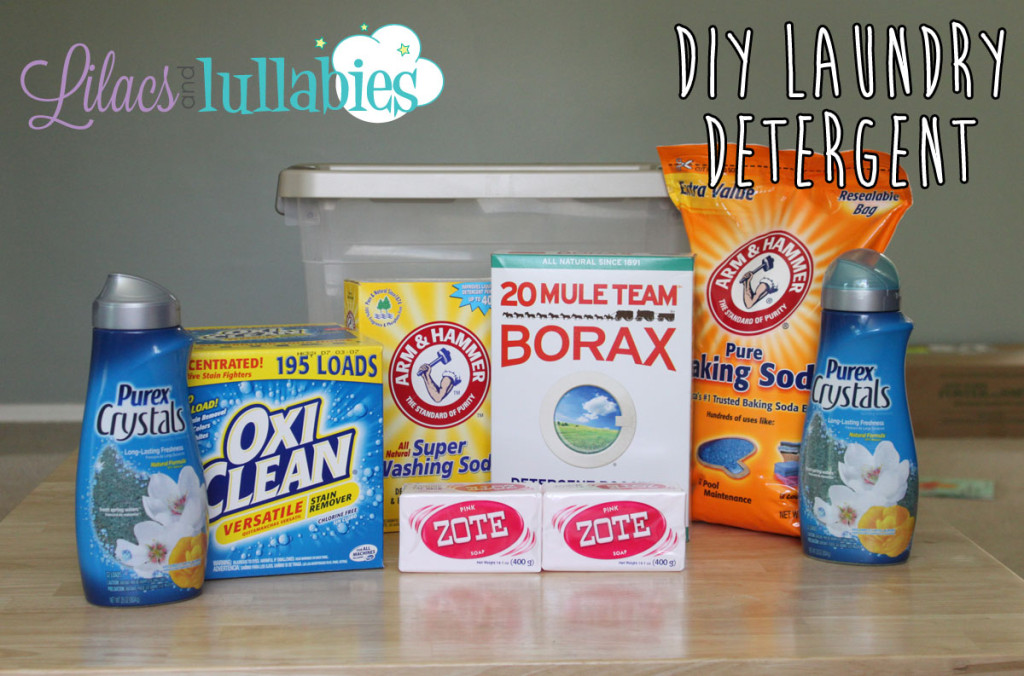 You will need:
Large bin or pail for mixing/stirring your laundry mixture
2 – 14.1 oz Bars of Zote Soap (Laundry/Detergent Aisle – Fels Naptha will also work! The pink Zote has a smell so avoid if you wanted it to be unscented. Zoe tends to be $0.98 a bar locally!)
1 – 4 lb. 12 oz. Box of Borax (Laundry/Detergent Aisle)
1 3 lb. 7 oz. Box of Arm & Hammer Super Washing Soda (Laundry/Detergent Aisle)
1 4 lb. (or 2 – 2 lb.) Box(es) of Arm & Hammer Baking Soda (Baking/Cooking Aisle – I buy a big bulk bag from BJ's or Sam's Club and measure it with my postal scale to save even more $$$)
3lb Container of Oxiclean (Laundry/Detergent Aisle – Or buy in bulk – I buy a big bulk box from BJ's or Sam's Club and measure it with my postal scale to save even more money!)
2 55 oz. Bottles of Purex Crystals (Laundry/Detergent Aisle – I use Purex Fresh Spring Waters. Optional – Leave out if you would rather do without the smell.)
Now let's make some soap!
The first step (and most painstaking part of the process) is to get your Zote Soap grated down OR in powder form. There are two ways of doing this! The first option is using your run of the mill cheese grater and grate the bar of soap on the finest side until it is completely grated. I did this the first time around and it worked fantastic but it took awhile and left me with a little bit of a sore arm/wrist.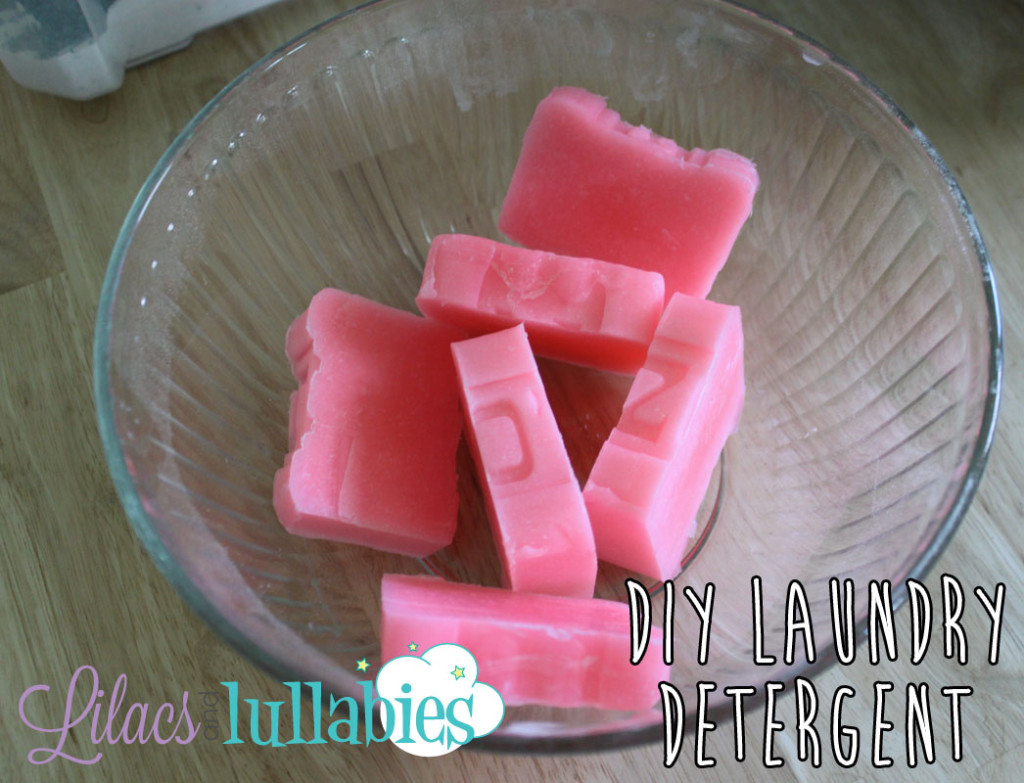 The other option is cutting up your bars of soap into slices with a really sharp knife and popping it in the microwave for a few minutes til it puffs up. You then take your cloud of Zote soap out and let it cool down. When it is dry and cooled it crumbles easily into little bits (and becomes a really nice fine powder if you toss it into your food processor to finish it up!)
I did it this way the second time around thinking it would beat grating by hand and it wasn't as easy as it sounded but I think it is because I have an older microwave. I read if you leave it in too long it can burn but my microwave hadn't even -nearly- turned it fully into a pink cloud at the end of a few minutes. I ended up having to zap it for 4-5 minutes, remove it and scoop the top fluff off onto another plate to cool and stick the thick dark pink blob of somewhat melted soap back in again for another 4-5 minutes…and repeat…and repeat. I was worried if I left the fluffy part in too long it would burn before the rest of the bar was able to melt and puff. Towards the end I got a little more daring and would leave the soap in a bit longer (5-8 minutes) and was having better luck.
My advice is if you take this route be prepared to babysit the soap the first time around as it goes through the microwave. Your microwave might do it in 1-4 minutes like others or it may be like mine and take much, much, longer to get the job done (and leave you with a Zotey smelling microwave whenever you nuke up some food for about a month. Ick.) Which way will I do it when I make the detergent a 3rd time? I haven't decided. Honestly with how my microwave handled creating the puffy soap cloud it ended up being more time consuming and annoying than hand grating BUT I very much preferred the really fine powder it crumbled into using my food processor than the shredded soap. The powder version just incorporated itself into the mix better since it was so much finer.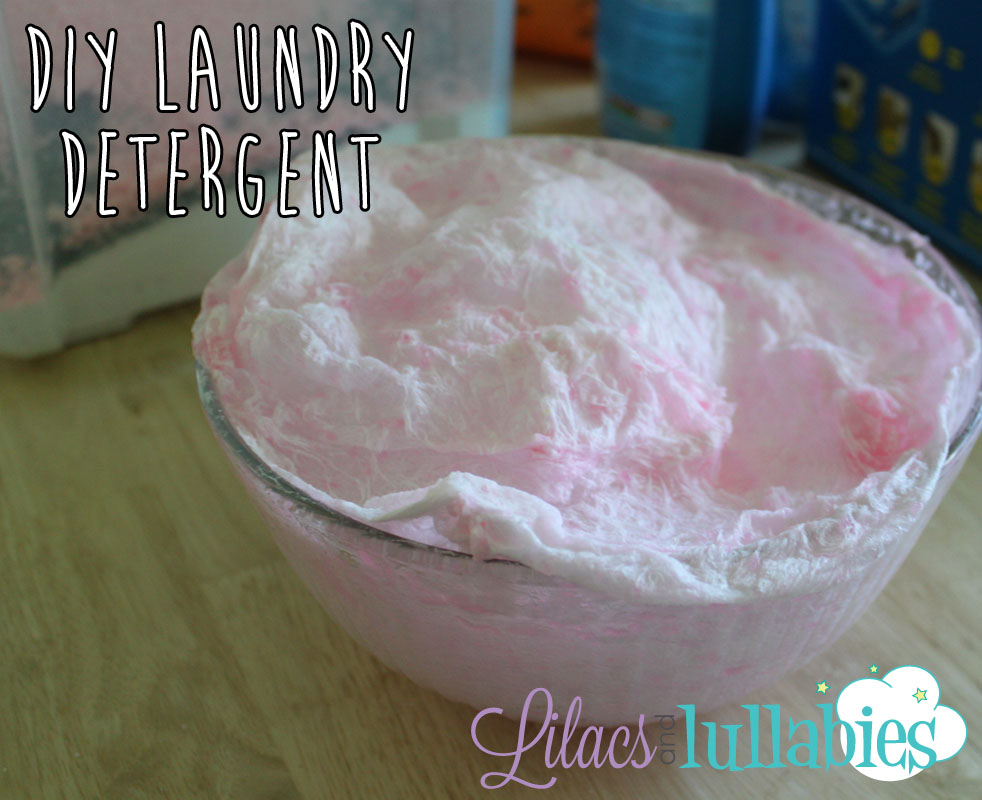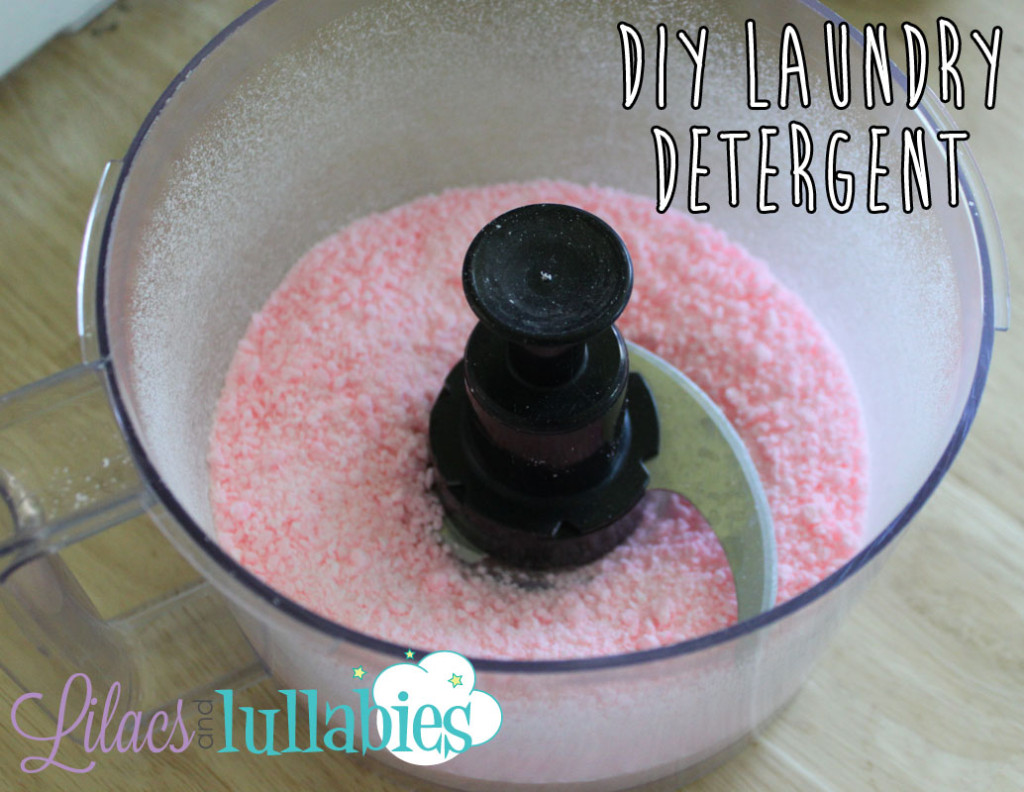 When you have your Zote all shredded or powdered up you are almost done! (The worst is over!) Pour the remaining ingredients into the bin/pail with your Zote Soap (Borax, Washing Soda, Baking Soda, Oxiclean, Purex Crystals) and stir, stir, stir! (As mentioned in the ingredients to save a little more money I tend to buy the baking soda and the Oxiclean in bulk and then use my postal scale to measure the correct amounts out before adding it to the mixture. This leaves me leftover stuff to make future batches!)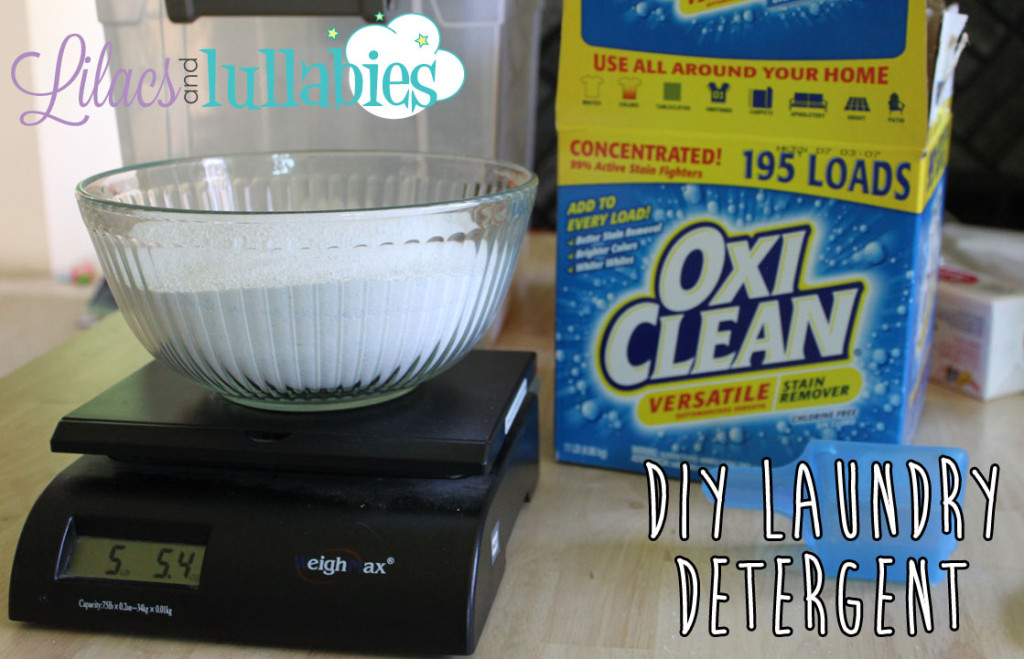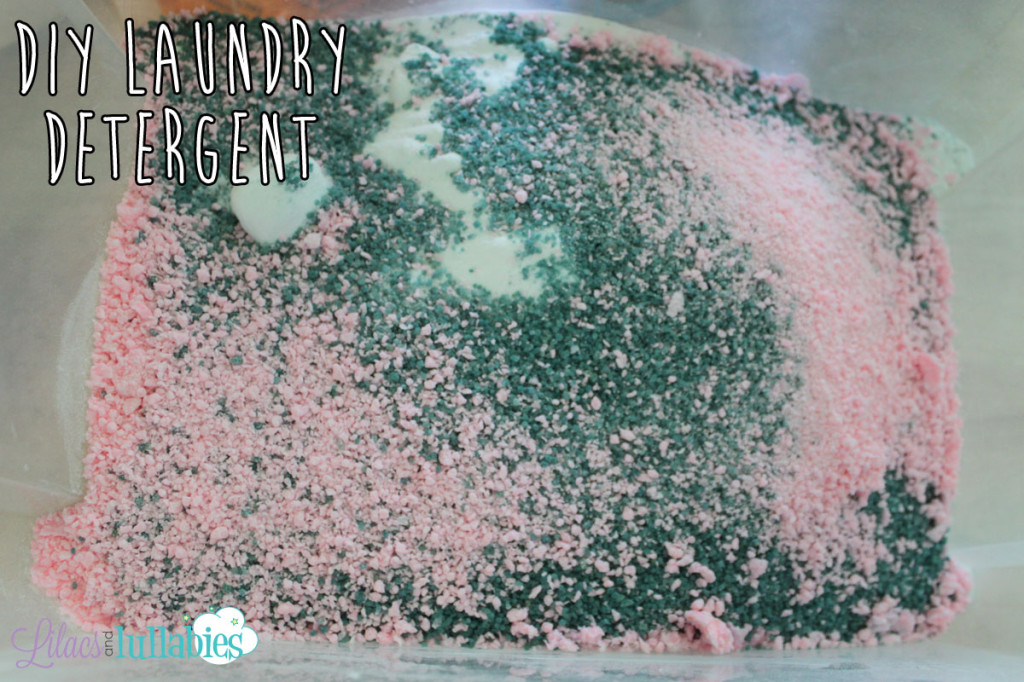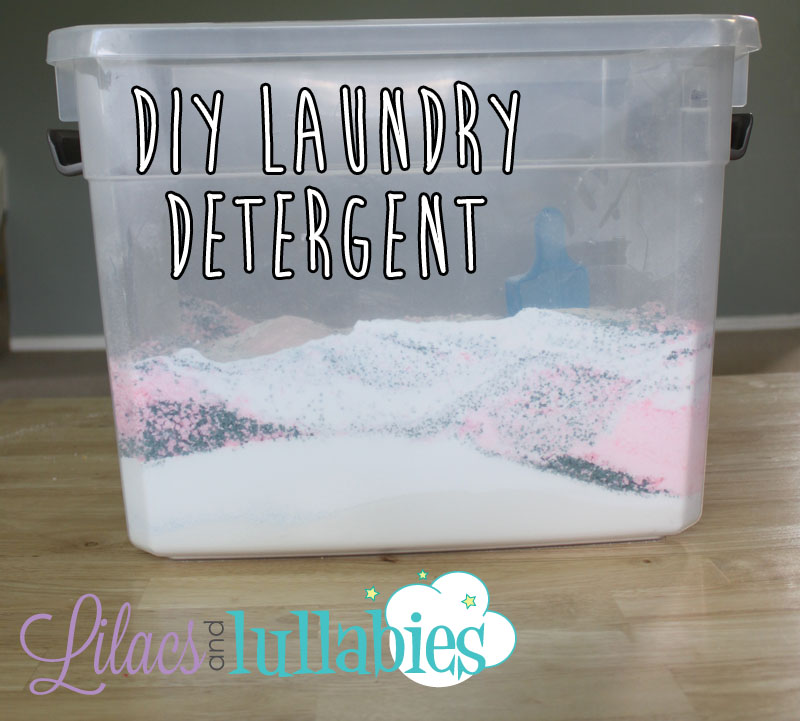 That is it! Place it in a container of your choice that keeps out as much moisture and air as possible. You can pour/scoop some into your empty Purex containers and reuse them to dispense the powder as well. (I fill up the bottles and use the little round tops to measure out my powder as seen in photo.)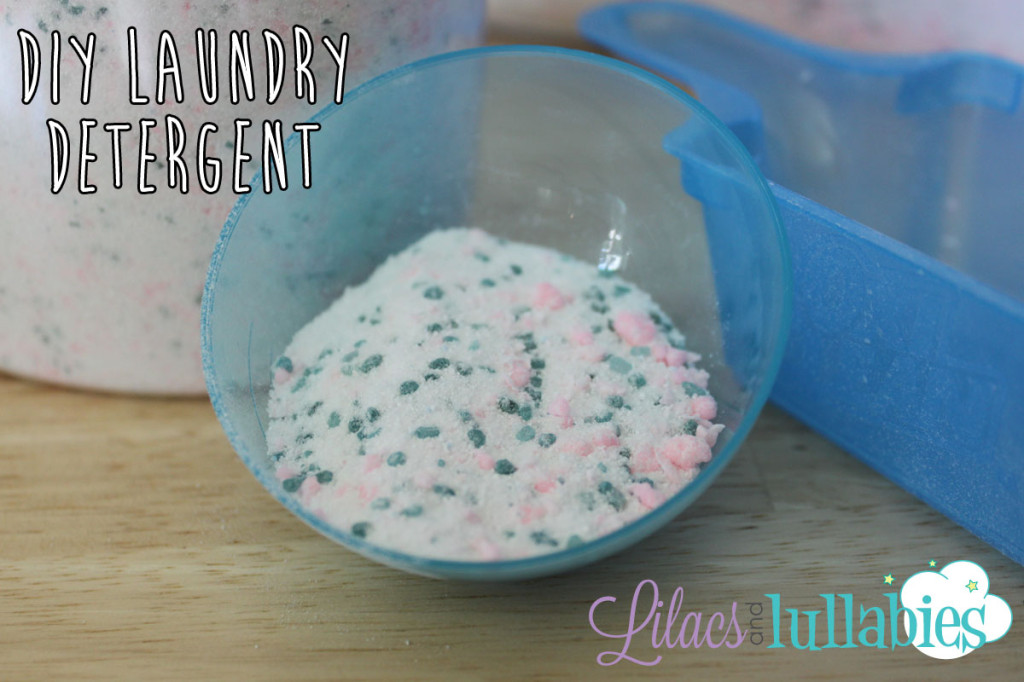 Now all you need to do is use one-two tablespoons for each load and your clothes will be clean and yummy smelling like mine (and your wallet will thank you!) I tend to use a little more than 2 tablespoons per load since I tend to do big loads all at once and enjoy the extra pretty smell. Try different amounts to see what works best for you!
Some Additional Info and Tips:
There is a tendency for the completed powder to get hard over time as it sets. You can throw in some packets of silica gel or a cheesecloth/pantyhose full of rice to help absorb the moisture that is causing this! Otherwise give it a good mushing and smashing with something heavy and it breaks right back down into powder form. (I have used my hubby's socket wrench since it was laying near by and heavy – BAM BAM – ka-POWDER!)
I use the powder in a front loading HE washing machine and haven't had any issues to date. I have tried it both directly in the washer on top of the clothes and in the detergent drawer and both seemed to work fine.
I have pretty sensitive skin and use this powder to not only wash my clothes but also both of my daughters clothing and haven't had any irritation to date.
I wash in cold water and it dissolves just fine and clothes come out clean and fresh.
I have heard of others using other bar soaps like Dove Soap without any issues. As long as it is around the same amount of soap I don't see why not! Experiment and let me know how it goes!
I have also read where others shred the soap and then bake it in the oven at 170 degrees for about 45 minutes and get the same crumbly, powdery affect. Some also say to leave the bar soap out for a few days unwrapped so it dries out before grating. I may try these next time and will update how it goes!
Cost tends to vary by location but it seems to be about $20-$30 per batch and it lasts AGES!
Have you made your own laundry soap? Is the recipe similar? Any tips or tricks I haven't mentioned? Would love to hear! Especially if you make your first batch after reading my blog. Believe me – try it and you will never go back to using the more expensive alternatives!