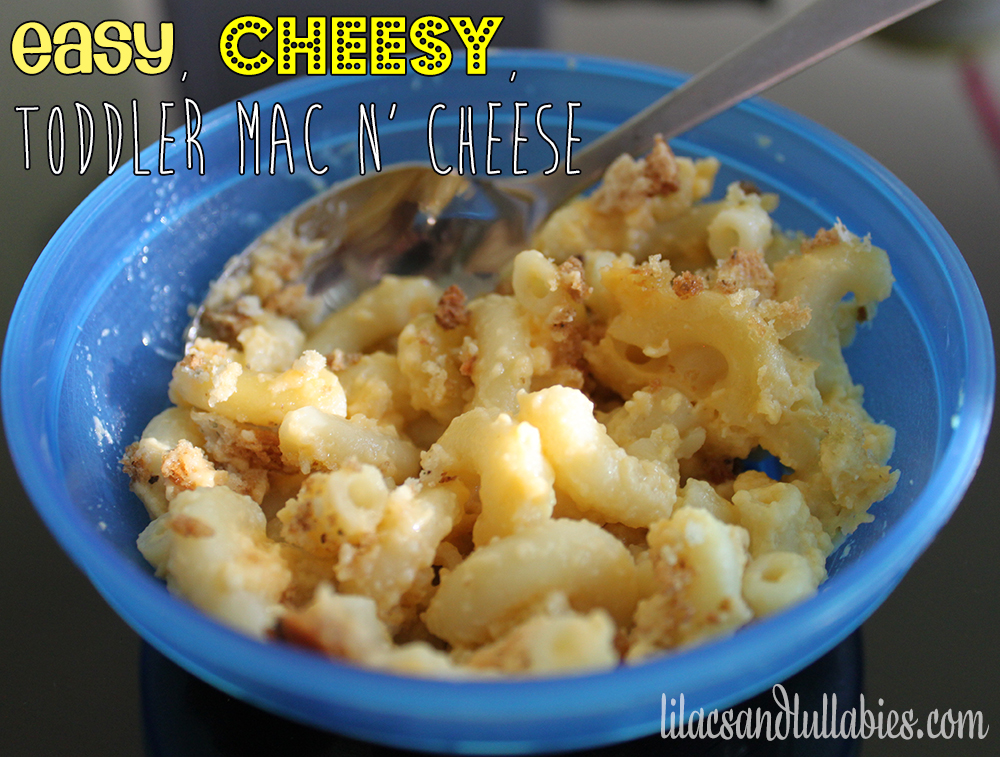 With a one and a three year old finding a quick easy dinner that both of them will gobble down is always a task for me as a mom. My 3 year old, Lelia, is usually a pretty good eater but my 16 month old, Aerilyn insists on feeding herself so ideally the food I make is something she can pick up and feed herself (without utensils because we are not there yet!) That's where my Easy, Cheesy Toddler Mac and Cheese recipe comes in and saves the day/night! 🙂
It is easy for my youngest to grab it up with her fingers and shovel it in and filled with cheese (which both of my girls are huge fans of!) It is also super easy to throw together. I've been making this for my little boogers for about  7-8 months now and it is always a huge hit. Plus with different mix ins and substitutes you have the option of making it a little bit healthier or changing it up a little bit. That's why this is one of my favorite go-tos and I wanted to share it with you guys! (This makes a pretty big batch so feel free to halve the recipe if you don't need as much. Hubby and I tend to eat it alongside the girls for dinner as well so I like to make it in the larger amount so I have a little leftover to use again a little later in the week when things are hectic!)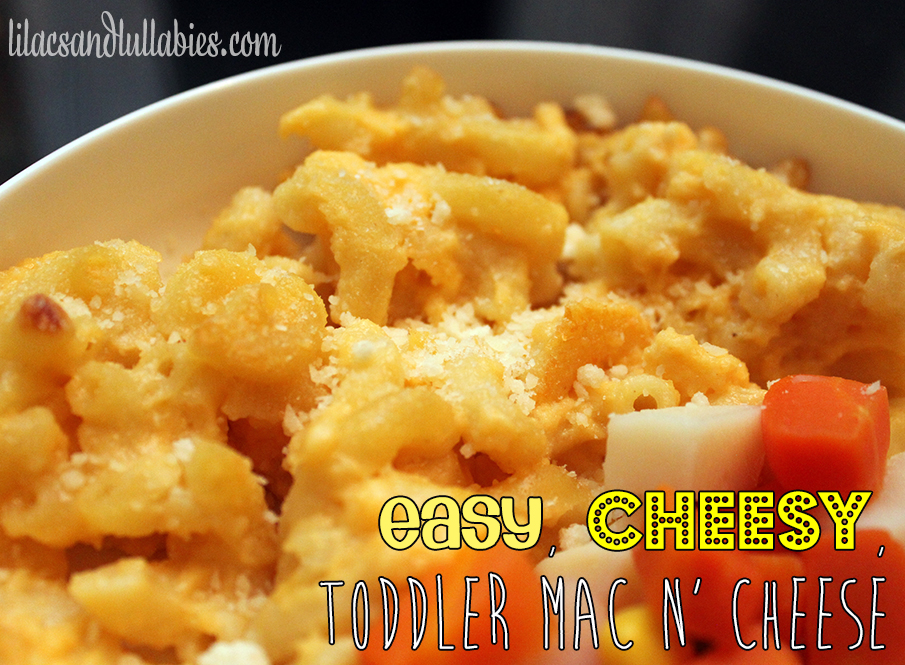 Easy Cheesy Toddler Mac N' Cheese
16 oz. Box of Elbow Macaroni (Make it whole wheat if you want to make it a little healthier!)
4 TBSP. Butter (I tend to use Smart Balance since it is what I usually have on hand.)
4 TBSP. Flour
3 Cups of Milk (I use whatever is on hand be it Skim, 1% or Whole. If I use skim I usually do about 1/3 whole milk and 2/3 skim so there is a little bit of fat for taste but it really is a matter of preference!)
2 Eggs
3 Cups of Shredded Cheddar Cheese
10 American Cheese Slices
Salt & Pepper
Optional: Parmesan Cheese & Bread Crumbs for topping (I love crunchy Panko!)
Preheat oven to 425 degrees and spray a 9×13 casserole pan with non-stick spray (or grease with a little butter).
Boil your macaroni until al dente. Drain and set aside.
In a small sauce pan melt your butter and then whisk in the flour til it forms a roux. (I usually have awful luck actually making anything except thick buttery flour after this step but the milk added in the next step smooths it out and you wouldn't know the difference.)
Add your milk and whisk it up to mix. Bring to a simmer, allowing it to thicken. Add salt and pepper.
When the milk mixture has thickened up a little remove it from the heat and add in your cheese (Shredded Cheddar and American Cheese Slices), stirring to melt. (If you aren't using deli cheese it helps to remove the packaging off the cheese slices, stack them and then cut into strips/cubes before throwing them in to speed up the melting! I do this when I am using Kraft or Wegmans Cheese Single Slices)
In a separate bowl gently whisk up your two eggs. Whisk in a little bit of your warm cheesy sauce mixture to "temper" your eggs. This pretty much gets your eggs a little used to the heat of the sauce before adding them so when you add them to the sauce they don't immediately cook and get clumpy. Once they are whisked with a little bit of the sauce whisk it gently into the cheese mixture.
Pour the cheese mixture over your cooked macaroni until well coated.
Pour the mac mixture into your prepared baking dish and top with parmesan cheese and brand crumbs.
Bake for 20 minutes until bubbling. Yum!
Super easy and I promise you it is super delicious! I think it is the best mac and cheese I have made from scratch to date so if you are a mac and cheese lover yourself I think you are going to LOVE this too…(That's why you need to make a big batch!) Om nom nom.
I will leave you with a photo of my youngest, Aerilyn, enjoying her Toddler Macaroni and Cheese when she was 10 months old. (Aww…my little boogsy..where does time go?!?)